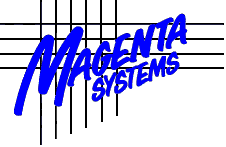 Wang Systems Software from
Magenta Systems Ltd
Last Updated: 25th May 2001
Magenta Systems Ltd is an independent software vendor successfully supplying software to Wang users for 18 years.
Magenta's main area of expertise is conversion and migration of documents and databases from Wang VS, Alliance and OIS systems, to PC and UNIX platforms. For those still using Wang Word Processing or WP Plus, we offer packages that will extend their life until replacement by PC packages.
Satisfied Magenta users have included British, American and Swiss government agencies, banks, insurance companies and brokers, solicitors and industry. There are Magenta software users in over 30 countries worldwide.
---
Software for Document Conversion and Migration
Magenta Document Conversions is probably the most comprehensive and simplest to use utility for mass high quality conversion of Wang WP, WP Plus and Alliance documents to or from PC formats. Conversion is a single step process controlled from the familiar Wang environment with PC handling transparent. Full font conversion including line drawing. All Wang and most PC formats are supported including MS Word 6 and 7, Ami-Pro and WordPerfect 6.
Anything from a single document (selected from an index) to multiple libraries can be handled without user intervention. PC file name and directory generation can be automatic, so each library is converted to a new PC directory. Conversion log files provide full details of what was converted to where. Documents may be selected for conversion based on summary information. Integration with document management packages is fully supported. An optional Windows version reads 5in WP, WP Plus and Alliance archive diskettes on standalone PCs and does mass PC-PC conversions. Available for the Wang VS, OIS & Alliance.
---
Software for DP File Integration and Database Migration
Magenta VS/PC Transfer Utility allows the transfer of VS DP files to/from a PC; DP printing on a PC printer and the running, from the VS, of programs on a PC. Copying speed is up to 250 Mbyte per hour. Controlled from the VS, using VS menus or with getparms for easy integration with VS applications. Available for the VS only.
Magenta VS Data File Conversion assists in the migration of VS data files and PACE databases to PC UNIX databases and spreadsheets, including extracting data from LightSpeed Backup Files.
Magenta VS WIIS Image Migration assists in the migration of VS WIIS images to industry standard TIFF format images.
Magenta LM/LP Convert provides a simple means of converting and transferring Wang List Processing and Magenta OIS List Management databases to PC or UNIX database packages such as Microsoft Access, DataEase, Paradox, etc. Numerous conversion options such as quoted fields. Available for VS and OIS.
Magenta Visual Memory to PC Copy allows Visual Memory cabinets to be converted into PC text files on a PC, which may then be imported into PC or UNIX database packages. Numerous formatting options are supporting. Sub records are converted to separate text files with linking information. Available for VS, OIS & Alliance.
All Magenta conversion and migration products require a PC with a WLOC card. WLOC or WINLOC software is not required, nor is LightSpeed or IWSCORE. Installation of all these products is very fast with no special GENEDIT or PC configuration requirements for maximum flexibility.
---
Quality Printing
Magenta Printing takes the printing of WP and WP Plus documents and VS DP print files into the realms of WP packages. Many Wang and most industry standard printers are supported, including the HP LaserJet 4 and 5 and Kyocera FS-series printers at 600dpi. Except for Wang 'SYS' printers, an interface (Wang PIB, PCL, HBM etc) or a PC with WLOC is required. Hundreds of scalable and other fonts are supported. WP Plus features (e.g. 100 fonts) are available in WP and VS DP, such as PACE output.
Magenta Printing may be used with LightSpeed LAN WP so that client PCs may print directly from the WP and WP Plus to any PC or LAN printer, without requiring extra gateway PCs or VS background tasks. Features include: Colour; printer control (e.g. duplex); precise position & spacing; margins changed in document; 16 columns; auto date, ID etc; mixed portrait & landscape; lines & boxes; access to HP graphics; TIFF images for logos and signatures; auto form/image overlay (e.g. letterheads), auto envelope; auto shading & rules and auto pagination. Available for VS, OIS & Alliance.
---
Word Processing and WP Plus Enhancement
Wang Word Processing Release 5.0 and Magenta WP Features together provide numerous long awaited features including extensive new configuration for user and libraries. Administrators will be reassured by the enhanced security, as regards both operator access and the protection against the loss of data. WP now works on VS devices higher than 255. Features include: Menu and editor enhancements; hot- key interrupt to an application (e.g. Wang Office); hotprint; document copy; copying of prototype text; recall of date, time, document ID; shared access on supercopy and to standard forms in 'protected documents'; faster glossary; auto back- up; 'do' and/or 'undo' options; user accounting. Works with LightSpeed LAN WP. Available for VS and OIS.
Magenta WP Plus Cross Reference Utility takes the sweat out of cross referencing a WP Plus document, particularly after editing and pagination changes. Simple codes mark the subjects and the references to them (in several ways); the references are updated automatically when the utility is run. References may be within text, contents or index pages. Available for VS, OIS & Alliance.
---
Magenta Systems Ltd, 9 Vincent Road, Croydon CR0 6ED, United Kingdom
Phone 020 8656 3636, International Phone +44 20 8656 3636
Fax 020 8656 8127, International Fax +44 20 8656 8127
Copyright © 2002 Magenta Systems Ltd, England. All Rights Reserved.