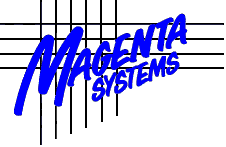 Magenta VS WIIS Image Migration
VS Image Transfer
Highlights
Migrate Wang VS WIIS (Wang Integrated Image System) images to industry standard TIFF format images
Images are copied from VS optical media directly to PC disk, avoiding sending any media off-site with potential security risk
Combines Magenta VS/PC Transfer Utility for physical transfer from VS to PC, and LACS VS ViewS image conversion software
Features
WIIS WIFF format images are copied according to the PACE locator database from optical media to VS disk.
The images are then copied from VS to PC disk.
Transfer speed is at least 100 Mbytes per hour, faster for multiple page images.
Two or more PCs may be used to simultaneously migrate images for increased throughput.
A Windows NT application then converts WIIS format images to various TIFF, PCX or DXC industry standard formats, including splitting multiple page files into separate image files if necessary.
Images may be physically rotated if required
Log file are created on the VS detailing files that have been migrated.
All VS functions are controlled from a single VS procedure.
Migration may be halted and resumed where it left off.
Customisation for specific requirements is available.
Requirements
Any VS with operating system 7.21 or later, and WIIS software
PC: Wang 200/300, IBM AT/compatible; with WLOC or MCLOC (not WINLOC), and with Windows. VS to PC copying needs DOS, Windows or Windows 95, 98, or ME, not NT or later. PC image conversion any 32-bit version of Windows, fast processor recommended.
Pricing
See Price List