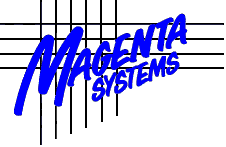 Magenta WP Plus Cross-Reference Utility
Adds a much needed feature to WP Plus
Highlights
Comprehensive creation and maintenance of cross-references in WP Plus documents.
Easy to use; only simple editing is needed in the document.
Accessed directly from the normal WP Plus Document Utilities Menu.
Who needs it?
Anyone who uses Wang WP Plus, especially those producing reports, agreements, manuals or other long or complex documents.
Benefits
Takes the chore out of cross-referencing.
Saves a great deal of time, particularly when up-dating after pagination and editing changes.
Enables those documents which ought to have cross-references to be given them, when, otherwise, cross-referencing may be overlooked or avoided as being too time-consuming.
Features
Simple target codes mark the words, phrases, sections, appendices etc. to be referenced.
Target codes can include optional text which can print and/or be passed to the reference.
Similar simple codes are used to mark where the cross references are to be placed.
Alternative types of cross-reference allow the following to be inserted:
The page number of the target (the number which would print on the target page).
The paragraph, section, sub-clause, chapter or similar number and/or text.
Optional text from the target code (to refer to figures, illustrations etc).
Styles (font, bold, etc) can be specified for individual cross-references.
Any number of references to a single target are possible.
Duplicated targets are allowed or, optionally, can be reported as errors.
Duplicated targets produce multiple page numbers for a single cross reference, and can be used for a simple form of document indexing.
It can be used in conjunction with WP Plus 'Standard Arabic' Paragraph Numbering, and, subject to some restrictions, with other WP Plus Paragraph Numbering styles.
Optional reports are logged to a text shelf in the document; they are comprehensive with information on all targets, references, page numbers etc.
Errors are always logged automatically to a text shelf in the document.
The utility can be run on the whole document or on a range of pages.
Requirements
Any Wang systems running WP Plus 3.0 or later.
Pricing
See Price List