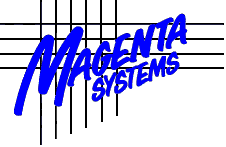 Magenta Printing Software
Quality Printing for Wang WP, WP Plus and VS DP
Introduction
Magenta Printing is printer driver software for use on Wang VS, OIS and Alliance systems, from Wang WP, WP Plus and VS DP. It can co-exist with the standard Wang peripherals software, compared with which it offers major enhancements and flexibility. In general, references to the VS, also refer to OIS and Alliance.
It can be used with a number of Wang laser printers or, in conjunction with the Wang Printer Interface Box PIB10-64 (or a PC with WLOC or certain other interfaces), with many industry-standard laser, ink-jet, daisy-wheel and matrix printers. These are accessed from within WP or WP Plus as if they were regular system printers.
Magenta Printing operates in the normal Wang environment, as a natural extension of the standard software; no non-Wang processors are involved (although the software is capable of running on some third party interfaces).
Highlights
Provides many desktop-publishing and other printing features directly from WP and WP Plus, without the need to transfer to another environment.
Allows industry-standard and Wang PC printers to be used as system printers on VS (through a PC, a Wang PIB or as mentioned later), with the benefit of the features mentioned above. (This is 'Magenta Background Printing'.)
Allows a user at a PC workstation (or a LightSpeed LAN WP PC) with an attached PC printer to print VS documents and print files 'locally' as if the printer were a system printer (i.e. by queuing them to print from WP or WP Plus in the normal way), again with the benefit of the features mentioned above. (This is 'Magenta Local Printing'.)
Most of the many features can be set and re-set as required in the document, not limited by a Print Summary which can only be set once.
Many defaults and options can be set for the system, the printer or the font; some, but not all, of these can be overridden in the document.
Product Description
Magenta Printing provides enhancements at, essentially, two levels:
1 - Those ('basic features') which are intrinsic to the software or which are set for the system, the printer or the font. These include:
Font sizes, from 4 to 255 point.
Choice of font origin (soft fonts and/or printer/cartridge fonts).
Use of Wang WISCII fonts and/or generally available PC fonts (from which most WISCII characters are available).
Default settings include:
Left and top margins; paper size; bin selection; print file settings;
Alternate fonts for bold and for sub/superscript (for each font).
and many more, including technical parameters for the printer hardware.
Such features provide much greater control and flexibility than the equivalent features of the standard software and this, of itself, may provide a solution for a number of current user problems.
2 - Those ('dynamic features') which the operator can set and reset for the document, within the document. Unless relating to a whole page (such as bin selection and top margin), changes can be as often as required within a page. The main dynamic features are:
Line separation can be effected by line spacing and font leading (all or specific fonts) in ½ point units and modified by format line spacing other than single. Blank lines (with only a Return) can be defined and may be different from the spacing of lines of text for improved appearance. Gaps between specific lines can be set to 0.1 point (1/720 inch) accuracy (although implemented to only 1/300 inch with most lasers).
Fonts can be specified so that, for each font, different fonts are used, automatically, for bold and for sub/superscripted text - typically a special bold font for bold and a smaller font for sub/superscript. Subscripted text can, optionally, be printed on or below the baseline for the normal text. On Canon lasers, bold can be white on black.
Character separation (i.e. tracking) can be varied for effect or, for example, to print 132 characters wide in 15 pitch portrait. For proportionally spaced fonts, the size of a required space can be defined, facilitating the underscoring of column totals etc.
Margins (left and top) can be reset, allowing pages with non-standard margins to be printed with the rest of the document. The left margin can be changed as often as required within each page.
Print positioning can be achieved with great accuracy, expressed in points (to 0.1) or in more familiar lines/character positions (also to 0.1 unit). Several options are available, including a simple 'jump to line'. Text can be printed (or overprinted) anywhere on the printed page, regardless of its location on the document page. This has many uses, not least of which is that the editing of part of a page need not affect other parts.
Underscores can be of defined thickness and distance below the text. In the case of double underscores, the lines can be of different thicknesses.
Fill for indexes, tables of contents, forms etc (i.e. '. . . .', '-------', ' ' or whatever) can be defined and inserted automatically (which is almost impossible manually when using proportionally spaced fonts).
Printer control can be effected from within the document i.e. selection of bin, paper size, duplex (double-sided), alternate pages only for 'manual' duplex, etc.
Multiple copies can be taken from each bin (e.g. for different coloured paper) or can be uncollated for maximum printer speed.
Format pitch can be set at 5.0 to 99.9 character positions per inch. This determines tab spacing and the printed width of a given format line; it does not affect the actual space taken by a printed character. (The standard software defaults to 12 for proportionately spaced fonts, regardless of size.) It can be used to reduce large gaps between tab positions when using small sized fonts or to allow editing to remain on convenient-to-edit 80 character format lines, regardless of the printed width required.
Printed page width can be set in points. This is similar to setting the format pitch in that the pitch of each format line is automatically changed to achieve the specified printed width. It is useful when text has to fit a given form width and it also allows editing to remain on 80 character format lines.
Automatic pagination allows a document to be printed without first paginating it. Hard page breaks are kept; otherwise, text is split into the specified length and headers/footers provided logically. The document is not changed.
Page overlay allows one page of a document to overprint the other pages being printed - useful for filling forms and as a type of merge print.
Form overlay allows a form previously created from a WP or WP Plus document, or a TIFF image, to be overprinted on specific pages in a document, perhaps to provide a letterhead, invoice form or logo (such as the top of this page). Forms are accessed by number, then recalled automatically as required and stored in printer memory for repeated use.
Automatic form overlay allows a form overlay to be automated according to the paper bin and pitch size used to print the document, or by a code on the document summary. Up to 48 forms can be defined for each printer. Thus a letterhead can be added whenever a document is queued to a specific paper bin, but plain paper actually comes from a different bin and is form overlayed.
Columns can be specified in two ways, each allowing up to 16 columns (48 if WP Plus columns are also used) to be printed. The columns can be snaked from all or part of a page(s) or taken from sets of adjacent pages. Columns can be generated in conjunction with automatic pagination. Columns can also be created using a combination of print position and left margin changes - especially useful if the columns are of different widths.
Line drawing, box drawing and shading are all possible, with positioning as accurate as the laser permits (i.e. dots of 1/300 or 1/600 inch). Lines (horizontal and vertical only) and borders can be of any thickness; shading depends on the laser but generally includes a range of greys and a number of patterns. Rules and shading may be applied manually to specific parts of the page, or automatically as text style around specific text, thus allowing boxes to be drawn with verticals according to format line columns. Normal WP Plus Line Drawing is also available (the Line Drawing fonts are accessible from WP) and can be used in conjunction with mixed font sizes.
Images can be transferred to the VS and incorporated (by simple reference) within a document when it is printed - useful for logos, letterheads, forms etc. Currently, this support is mainly on Wang LDP and LCS series and Hewlett-Packard LaserJet and compatible printers. The industry-standard 'TIFF' format and the HP PCL image format are supported.
Special characters and data can be generated very simply. This allows access to the full range of characters available in the printer font, as well as permitting the user to send 'raw' control data to the printer.
Colour text and images may be used on colour capable printers. Specific colours may be defined. Negative figures may be automatically printed in red.
System information can be printed wherever required - simple codes included in the document will, when printed, be replaced by the information they represent. This includes the date and time (in many formats specified by the user from different elements), document library/ID, name, operator, author, user, printer unit, page number (as '#' on footer, or the actual document page or the total pages) and other useful information.
Macros can, simply, be defined and used to avoid the need to repeat text (or images) in the document. They are, to printing, what Glossaries are to document editing. What is recalled, by a simple code, can be another part of the document or an image or form recalled from a disk file.
Other features include an ability to print without word wrapping (so that the printed lines are the same as the screen lines) and the ability to print Magenta Printing Codes (as well as acting on them) for diagnostic and documentation purposes. The character used for overstrike can also be re-defined in the document.
Screen Graphics and Format Lines can be printed for documentation purposes or to clarify problems.
Automatic Addressing allows envelopes and labels to be printed from address information in a letter or other document, without the address needing to be typed twice or queue it to a different printer.
All features are available for both WP and WP Plus, except where WP Plus itself provides them, or something similar. Some features are also available for VS DP. Those relevant to WP only are:
Up to 100 fonts in a document (not just 2).
Up to 100 fonts selectable per printer (not just 9).
All WISCII characters can be printed without sacrificing others.
Headers and footers can be stopped and started (with specified page numbers).
Justification (including 'soft') started/stopped where required.
Underscore, double underscore and overstrike can be started and stopped. This, coupled with font changes, is useful for revision marking.
How It Works
The basic features are set up (and changed) from simple configuration menus accessed from an optionally passworded utilities menu. On-line HELP and HOTPRINT are available in these menus.
The dynamic features are set in the document by using simple codes which do not print. For example, !@BL20! would change the left margin to 20 and !@BLx! would change it back to the default on the Print Summary. In WP Plus, the codes must have option style; in WP, (-NOTE-) symbols are used instead of '!'; in VS DP a double !! is used at the start of the code.
Magenta Printing will print standard WP, WP Plus, Alliance WP, OIS Scientific Typing, OIS text files, VS DP print files (not directly from the DP queue), PC job files and PC ASCII files. Printers on VS/OIS can accept output from PC applications such as Pagemaker.
For Background Printing, the document or file is queued to the unit or route to which the printer is attached, in the normal way. For Local Printing, the procedure is similar except that a special device number (usually '00' is used) and, unless printing is by spooling to the PC disk, the workstation cannot be used until printing has finished.
The same document can be printed, without modification, by either Magenta Printing or the standard software, although in the latter case the extra features will be ignored. Magenta Printing does not, therefore, involve unnecessary re-training or new system procedures; operators can be trained to use only those features which they require and operators not needing any of them do not even have to know that the standard software is not being used.
A PC workstation can be used for both Background and Local Printing, but not both at the same time. When being used for Background Printing, the PC is dedicated to the printer and cannot be used for other purposes. With Local Printing, two or more PCs can share the same printer through a sharer box. On the VS, no background tasks are normally involved (optionally, one can be run if Magenta Printing is used for DP file printing), the processing being handled mainly in the interface or the PC WLOC board. Unlike some other printing 'solutions', there is no greater load on the VS CPU than with normal Wang WP printing.
Printing speed is, generally, similar to that achieved using the standard software but may (e.g. on the LCS15) be appreciably faster when loading fonts but may be slower if some of the more complex features (such as images) are used.
Printer Overview
The features available depend on the printer being used and (only in the case of some third party interface boxes) on the interface. All features (except colour, bins and duplex) are available on all the Wang laser printers mentioned above and on the Hewlett-Packard LaserJet ranges. Some are not available on a few models (e.g. the original LaserJet) and ink-jet printers; more are not available on matrix and daisy-wheel printers.
Even on daisy-wheel and matrix printers (and lasers attached through certain third party interface boxes), a significant number of extra features are available, such as system information printing, line jump and margin settings. Magenta Printing will (unlike the standard software) support matrix and daisy-wheel printers through the Wang PIB, which is of relevance to customers requiring impact printers for multi-copy stationery.
Magenta Printing can drive most printers which emulate any of those mentioned above, although there may be some features which are not available.
Apart from the obvious factors of the physical capabilities of the printer and the loading of the system, the following hardware considerations affect the speed of printing, especially if soft fonts are being loaded to the printer:
Printer connection: parallel is always much faster than serial - HP no longer provides serial connectors on the LaserJet range of printers.
Processor speed: the PIB10-64 is several times the speed of the PC WLOC or some third party interfaces.
Font Capabilities
A utility is provided which makes it possible, using a PC workstation, to transfer industry-standard PC fonts to the VS. Prepared bitmapped fonts can be transferred directly from the PC disk (in a PC drive) to a disk on the main system. Alternatively, a font scaling program (such as HP Type Director or Bitstream Fontware) can be run on the PC (a hard disk is required) to produce individual fonts (each size and style required) from master outline fonts and these can then be transferred from the PC hard disk directly to the main system.
With HP LaserJet IIP, IID, III, 4 and 5 printers (and Wang and other equivalents), it is not necessary to have both portrait and landscape versions of most fonts; portrait will, automatically, be converted to landscape, when required. Scalable soft fonts are supported on LaserJet III, 4 and 5 (and similar) printers.
Fonts take from 8KB to 1MB, dependent on size and whether bitmapped or scalable, although a font for a Canon Laser Beam printer will take up more space than the same font for an HP LaserJet printer.
Normally, the software will endeavour to find all the fonts requested by the document, if necessary downloading soft fonts. However, it is possible to control whether or not soft fonts are allowed to be used.
It is also possible to specify, for the printer driver, those fonts which, once used, are automatically retained in printer memory. This saves the time loading them for each document being printed. . Such fonts can, if necessary, be cleared from within a document to make room for other fonts.
On OIS WISE networks, soft fonts can be located on any system and Magenta Printing incorporates a feature which allows WP printing to be on any printer on the network, transparently to the user.
Print Preview
Print Preview allows the previewing, on any standard WP workstation, of the eventual printing format for the WP or WP Plus document. It takes into account proportional spacing, line spacing, word wrap, font sizes, tracking etc - in fact, virtually everything which is taken into account at the printer. Because the workstation cannot do this graphically, it is not, however, 'WYSIWYG'.
Words are shown on the lines on which they will print, line numbers (in points if required) are displayed, headers and footers (correctly numbered) are included on each page and the font applicable to each character can also be indicated, as can Magenta codes.
If applicable, documents are shown merged and multiple columns (including WP dual column print) are displayed with columns side by side. Font sizes cannot be shown as such, nor can images, lines, boxes etc, although the relevant commands can be.
Printer Communications
There are two means of using industry standard printers, either by using direct printing or print spooling.
Direct printing communicates directly with the printer, with the device being occupied until the printing completes. Direct is primarily designed for background printing on devices such as the Wang Printer Interface Box PIB10-64, Wang siblink interface (used by earlier laser printers), Internal Printer Controller (OIS-40/70 series only) and third party printer interfaces from companies such as ACS, GEI, HBM and PCL. Wang and IBM PCs also support direct printing when used with Magenta OIS/VS Workstation Emulation or the normal Wang WLOC Emulation (for Local Printing) or Magenta OIS/VS Printer Emulation (for Background Printing). The Wang PIB and siblink support parallel printers, the Internal Printer Controller only serial printers, and PCs both parallel and serial ports.
Direct print is ideal for background printing, since printing can be easily cancelled at any time, without needing to delete earlier spool files. When local printing is used to support matrix and daisy printers, it is recommended that an external printer buffer is used, but this will not be needed for laser printers since most keep up with the speed of document processing. Indeed, most printer buffers actually reduce printing speed on lasers.
Print spooling is used for devices with additional disk storage, typically Wang and IBM PCs, where the document or file queued to print is first copied to PC disk (taking a few seconds per page), after which printing is performed in background while the user continues in other VS or OIS applications. Spool files are automatically deleted after printing. Both parallel and serial printers are supported with PC spooling.
Wang and IBM PCs may use Magenta VS/OIS Workstation Emulation or the normal Wang emulation for local printing, while Magenta VS/OIS Printer Emulation dedicates the PC to supporting background printing. Both emulations include Local Queue Control with the ability to halt printing immediately, or to check which files are spooled waiting to print, and for these to be cancelled if desired.
Client PCs with the LightSpeed LAN WP module support local printing to any Windows local or LAN printer, from the normal WP or WP Plus print menu.
Queuing to Local Printing
The latest versions of Wang Word Processing (4.P or later) and Control Functions (including Queue Control 5.0 or later) support local printing from the normal print menus. Local printing is performed by queuing to the special queue 'LPT' ('LP' on the OIS) or 'U00', but rather than a normal background queue job being created, printing is performed immediately on the workstation or PC, with progress being shown by screen messages.
For WP Plus and Alliance WP, the 'Local Print' menu option is selected, with the special print route 'LocalPrt'. For text files, PC text files, PC jobs and VS print files, either the VSQUEUE DP utility or Queue Control may be used. Local print is also supported from within Wang Office.
Magenta Systems separately offers another package named Magenta Utilities which includes Magenta WP Functions and Text File Utilities, both of which support local printing. Magenta WP Functions allows standard Word Processing documents to be viewed, indexed and printed. Printing may be to any normal background printer, or to a local printer using the special queue 'U00'. Text File Utilities allows text files to be viewed, printed or converted to WP, and vice versa. VS print files and PC ASCII files may also be printed.
On the VS, it is not necessary to make any changes in GENEDIT to support local printing. The local printing software ignores the VS configuration and, instead, interrogates the hardware (or emulation software) to determine whether local printing is possible.
Queuing to Background Printing
Queuing to background printing is identical to normal Wang printing, with the device unit number, (of the printer to be used), simply being entered to queue the job. Queue Control shows which documents and files are waiting in each queue. On the VS, PCs used for background printing are GENEDIT'd as printers (see later chapter) and appear on the normal printer menu.
Duplex printing may be specified by using the 'Device' menu from standard WP, the 'Local Print' menu option for WP Plus or the VSQUEUE DP utility for VS DP files.
Magenta Print Utilities
This is a dedicated application used to specify the type of printer being used for each different device on the system, and to determine how each printer will behave. In Wang terminology this is similar to Peripheral Utilities, but with many added functions. Each device that is to be used with Magenta Printing must have certain defaults specified. Unless they are specified, printing will not be possible. These defaults include the printer format (serial, parallel, baud rate, etc) and the printer driver appropriate to the printer being used.
Each printer driver can have up to 100 character sets (or fonts) defined for printing from standard WP and Alliance documents or text files. Each character set may specify the pitch, style, typeface, etc, to be used during printing. By copying printer drivers, different users can have different selections of characters sets. With WP Plus, additional fonts are automatically specified as required by specific documents.
Additional character translation tables may be created, allowing characters different from those displayed on the screen to be printed (for example to make '>' on the screen print as '|', a vertical line).
Full support is provided for soft or downloaded fonts, including an option that allows the MS-DOS (PC) diskettes on which soft fonts are distributed, to be installed onto the VS or OIS directly from the PC drive. Within Magenta Print Utilities, MS-DOS File Utilities allows files to be copied between any PC drive and the VS or OIS.
Specific Printers Supported
Magenta Printing software includes a number of printer driver files for common industry standard printers.
Hewlett-Packard LaserJet Printers - Although these printer drivers were designed specifically for the Hewlett-Packard LaserJet range of printers, they will in practice function with many other laser printers, since most other manufacturers include emulations of the Hewlett-Packard Printer Command Language, PCL Level 4 or 5. Specific HP printers that are supported include the LaserJet 500 Plus, LaserJet 2000, LaserJet II, LaserJet IID (dual bin duplexing), LaserJet IIP (personal), LaserJet III, LaserJet IIID, LaserJet IIISi (dual bin duplexing, heavy duty), LaserJet IIIP, LaserJet 4 (600 dpi), LaserJet 4Si, LaserJet 4L, LaserJet 4P, LaserJet 5L, LaserJet 5P and LaserJet 5Si.
Hewlett-Packard DeskJet Printers -Hewlett-Packard have been marketing DeskJet ink jet printers for some time. Magenta Printing supports the original DeskJet, DeskJet Plus, DeskJet 500, DeskJet 500C, DeskJet 510 and DeskJet 550C all for black and white text only, and the Deskjet 1200C and 1600C for colour text and images (with all the features of the LaserJet 4).
Wang Lasers - Magenta Printing supports both Wang system (VS and OIS) and desktop (PC) printers. System printers supported are the Wang LDP4P-SYS, LDP8-SYS, LDP8-III-SYS, LDP8-IIID-SYS, LDP10-SYS, LDP12-SYS, LDP17-SYS, LCS15-SYS and LCS15-CMB, all of which are cabled directly to the VS or OIS. Desktop printers such as the Wang LDP8-DSK or LCS15-DSK must be used in conjunction with a separate VS or OIS interface, such as a PC, PIB or IPC. Full WISCII fonts are supported on all these models, including line drawing and scientific typing.
Kyocera Lasers - A range of laser printers is offered by Kyocera, including models with paper collators. Kyocera F-series lasers primarily support the proprietary Prescribe command language, but include emulation for the Hewlett-Packard command language. The Kyocera FS-series series emulate LaserJet IIIs and are fully supported.
Canon Lasers - The Canon Laser Beam printers use similar engines as the more commonly available Hewlett-Packard laser printers, but support a totally different command language. Magenta Printing includes drivers to support the Canon LBP-8II and related dual bin models, including the duplex model. Using fonts with the IBM-PC character set, all WASCII and most WISCII characters are available. Alternatively WISCII fonts are supplied by Magenta Systems to special order.
Matrix Printers - Over the past seven years, Epson has marketed a wide range of matrix printers (and more recently lasers). Since the original MX80, numerous new models have been introduced, most of which require different printer drivers to gain access to new features added. Drivers are available to support the Epson MX, FX, RX, LQ and LX models, and also for IBM ProPrinters. Matrix printers from other vendors invariably support either Epson or IBM protocols.
Daisy-Wheel Printers - Although daisy-wheel printers have mostly been replaced by laser printers, they are often still used for continuous and multi-part stationary, labels, etc. Diablo and Qume are historically the leaders in daisy printers, and most early Wang printers were manufactured by Diablo. Drivers are provided for Wang, Juki, Qume and Diablo printers using various print wheels.
Requirements
A VS, OIS or Alliance system and printer interfaces and.or PC workstation with WLOC connection. Minimum O/S: VS: 7.13 with VS/IIS WP 4.60.22; OIS: 9.92; Alliance: 5.9. F
Pricing
See Price List