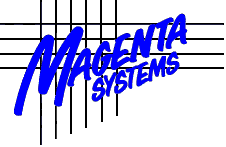 LightSpeed LAN WP and Magenta Printing
VS Printing to PC Printers using LightSpeed
Highlights
Use VS Word Processing and WP Plus on Windows client PCs without a WLOC card.
Print VS WP and WP Plus documents to PC or LAN printers.
WP Plus 4230 Emulation with full WISCII symbols and line drawing graphics.
Dramatic VS I/O overhead reduction for VS WP and WP Plus applications.
Who needs it?
VS sites co-existing with LANs, who still need access to VS WP or WP Plus, in addition to the normal DP access that LightSpeed NVS provides.
VS PACE users that need WP integration across the LAN
WP Plus users with WINLOC, which does not display WISCII or line drawing.
VS sites with performance problems due to WP and WP Plus usage.
VS sites who want to make more efficient use of PC or LAN printers.
Allows remote VS users to access WP and WP Plus for the first time, through LAN bridges.
How LAN WP Works
VS WP and WP Plus are microcode based applications normally only supported on VS 2256C and 4230 terminals with a Z80 microprocessor, and on PCs with a WLOC card that essentially adds the Z80 and special screen display hardware to the PC.
The LAN WP module runs from LightSpeed NVS Windows Virtual Terminal Emulation.
When WP or WP Plus is run, a LightSpeed VS Microcode Emulator is loaded which includes a Z80 microprocessor instruction emulator together with emulation of the screen display hardware, which allows microcode based applications to run normally.
To improve performance, most VS microcode and WP Plus database files are cached on the PC or a LAN drive. This reduces VS I/O dramatically with benefits for other users.
WP defaults are held locally on the PC instead of by logical device number
The document currently being edited may be cached on the PC, for further performance benefit.
Pointing and clicking the mouse allows WP and WP Plus menu selections to be made.
Performance on a 50MHz or faster PC is similar or better than a WLOC card.
Magenta Printing
Magenta Printing supports normal VS laser printers, PC printers on WLOC connected PCs, or client PCs with the LightSpeed LAN WP module.
With the LAN WP module, WP and WP Plus documents may be printed directly to any Windows local or LAN printer, from the normal WP or WP Plus print menu.
Does not require any gateway PCs or VS background tasks, for minimal overhead.
Most laser, inkjet, matrix and other printers, including colour, are supported.
Forms and TIFF images save stationery costs and paper changes.
Supports a wide range of desktop publishing features, and those specific to the Wang environment, extend what can be done from your familiar and friendly Wang word processing far into the realm of the PC.
Includes many standard Wang compatible fonts such as Prestige, Gothic, Narrator, and line drawing, and all internal scalable fonts in LaserJet III, 4 and 5 printers may be fully used.
Optionally, LCS15 compatible fonts are available for LaserJet printers without Postscript.
Automatic rules and box drawing allow easy addition of rules to WP and WP Plus tables and figure work.
Special codes allow automatic printing of the date and system information in documents.
Duplex and multiple paper bin printers fully supported.
Automatic address printing on envelopes or labels.
Same software may be used for both WP LAN printing and improved printing on existing VS printers.
Magenta WP Features
Magenta WP Features is an add-on to Wang Word Processing 5.00.000, that allows WP access on devices above 255, and many other functions that will be of benefit to users of LAN WP. Please contact Magenta Systems for more information.
Requirements
LAN WP is an add-on module for Lightspeed NVS, and requires the LightSpeed Windows module Release 3.20.40 or later.
Magenta Printing Release 4.3 and later support LightSpeed LAN WP.
Pricing
See Price List