Download MailMaint
(zipped version)
v4.2 - 19 Jan 2023
(4,789,319 bytes)
Download MailMaint
(executable version,
if you don't have unzip)
v4.2 - 19 Jan 2023
(5,300,600 bytes)
MailMaint Beta
No beta at present
Other Magenta
Sites
CodeLook
lookup telephone
numbers, cost and
broadband availability
ComCap v5
data capture utility
DUN Manager
broadband and dial-up
networking enhancement
MailMaint
Online POP3 mailbox maintenance and use
---
19th January 2023 - New release MailMaint 4.2 today, improved support for modern authentication with Microsoft and Google accounts.
MailMaint for Windows is a simple POP3 Mailbox Maintenance application that supports multiple POP3 mailboxes, allowing headers to be accessed, messages to be read and deleted, and new email and replies to be sent. Old headers are stored on the PC to minimise access time, but this application is not designed as an offline mail reader. Whole messages can be relayed to another mailbox, chosen from an address book. MailMaint also includes basic spam detection filtering and deletion, with user designed filers.
MailMaint's main purpose is deleting messages that have become stuck in the POP3 mailbox and are not being properly deleted by your normal email application. This typically happens when the mail headers are corrupted or deliberately wrong (very common with spam email). But MailMaint will also be very useful for those that need to access multiple mailboxes.
While MailMaint is normally installed under Windows with all the settings kept in the system registry, it is may also be run from a USB memory stick, with all server settings and preferences saved on the stick. This will be useful for people that travel a lot and need to access POP3 mail in a better manner than a web interface.
MailMaint is shareware, developed by Magenta Systems Ltd, in the UK, and supports 32-bit and 64-bit versions Windows Vista and later.
Until registered, it is only possible to access two POP3 servers, and it's not possible to send or reply to email. The unregistered copy still allows mail to be viewed and deleted, similarly to earlier releases. Registration costs £15 (UKP, including VAT), with discounts for site licenses.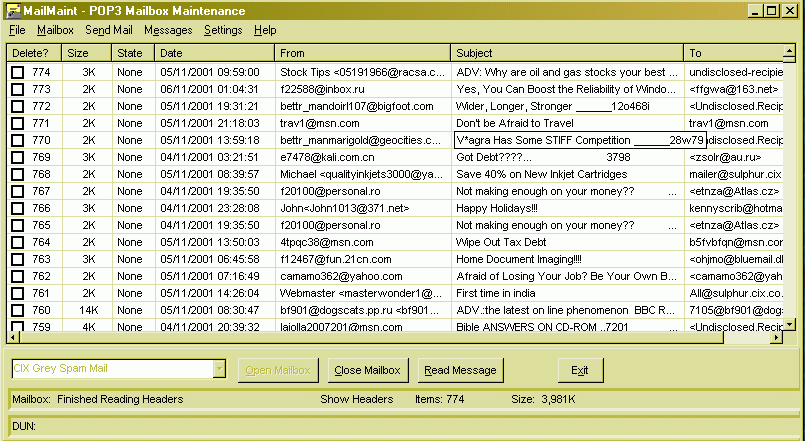 Viewing the Help File
Microsoft stopped installing the winhlp32.exe program needed to display historic HLP files with Windows Vista, hoping software vendors would update their help files to the CHM format. Some did, some did not, mostly sunsetted applications that are no longer supported.
A knowledgebase article 917607 explains some of this: https://support.microsoft.com/en-gb/kb/917607 .
It includes links to download standalone installers to install winhlp32 on Windows Vista, 7, 8, 8.1, 2008 and 2008R2, a separate download being needed for each platform. Microsoft has not yet provided installers for Windows 2012, 10 or 2016, and probably won't. Yet the original winhlp32 still works fine on these platforms.
Magenta Systems has therefore built a zip file that contains all alternate means of installing winhlp32 on Windows Vista and later, including Windows 2012, 10 and 2016, on 32 and 64-bit editions. More information is available on the Other Applications page.
---
Magenta Systems Ltd, 9 Vincent Road, Croydon CR0 6ED, United Kingdom
Phone 020 8656 3636, International Phone +44 20 8656 3636
https://www.magsys.co.uk/
Copyright © 2023 Magenta Systems Ltd, England. All Rights Reserved.